Dollar Cost Averaging (DCA) Returns
Switch to Satoshi Cost Averaging
Return of Cost Averaging with EUR since...
2020
2019
2018
2017
2016
1

Bitcoin -

BTC

73,2%

117,8%

128,7%

271,5%

813,1%

2

Ethereum -

ETH

109,6%

152,9%

124,4%

337,9%

1.883,8%

3

XRP -

XRP

153,6%

119,7%

83,3%

634,7%

2.174,7%

4

Cardano -

ADA

150,0%

180,9%

136,2%

0%
0%
5

Chainlink -

LINK

164,0%

734,8%

1.718,6%

0%
0%
6

Bitcoin Cash -

BCH

1,0%

8,1%

-10,9%

0%
0%
7

Litecoin -

LTC

36,4%

24,1%

14,7%

123,8%

442,8%

8

Stellar -

XLM

196,7%

172,0%

108,5%

896,3%

1.140,2%

9

Binance Coin -

BNB

46,5%

60,6%

104,1%

0%
0%
10

Bitcoin SV -

BSV

-14,6%

28,8%

0%
0%
0%
11

EOS -

EOS

1,3%

-10,9%

-24,8%

0%
0%
12

Monero -

XMR

60,5%

73,2%

47,1%

102,7%

1.733,0%

13

TRON -

TRX

58,3%

47,2%

30,7%

0%
0%
14

Tezos -

XTZ

-1,6%

87,5%

0%
0%
0%
15

NEM -

XEM

227,5%

237,8%

162,9%

304,4%

2.905,3%

16

Crypto.com Coin -

CRO

-18,0%

34,9%

0%
0%
0%
17

NEO -

NEO

45,4%

59,1%

29,7%

1.013,7%

0%
18

Dash -

DASH

30,1%

22,5%

-3,0%

10,5%

273,0%

19

VeChain -

VET

111,4%

150,6%

0%
0%
0%
20

Huobi Token -

HT

-3,9%

31,2%

0%
0%
0%
21

IOTA -

MIOTA

35,4%

21,5%

-5,4%

0%
0%
22

Zcash -

ZEC

36,0%

37,8%

6,2%

-3,1%

0%
23

Aave -

AAVE

977,3%

1.034,2%

1.028,6%

0%
0%
24

Ethereum Classic -

ETC

-2,6%

5,7%

-12,9%

1,4%

0%
25

Waves -

WAVES

347,4%

348,6%

270,6%

392,4%

0%
26

Theta Network -

THETA

232,1%

380,6%

0%
0%
0%
27

OMG Network -

OMG

197,3%

193,1%

119,5%

0%
0%
28

Maker -

MKR

8,6%

-1,8%

-5,8%

0%
0%
29

Ontology -

ONT

-6,7%

-22,2%

0%
0%
0%
30

Dogecoin -

DOGE

26,8%

27,9%

15,8%

123,6%

359,7%

31

Basic Attention Token -

BAT

1,0%

2,9%

-0,5%

0%
0%
32

Zilliqa -

ZIL

184,4%

171,2%

0%
0%
0%
33

DigiByte -

DGB

92,6%

108,2%

67,8%

607,1%

0%
34

0x -

ZRX

35,9%

46,4%

15,6%

0%
0%
35

REN -

REN

231,4%

305,1%

0%
0%
0%
36

Qtum -

QTUM

31,2%

19,9%

-6,1%

0%
0%
37

Decred -

DCR

43,3%

20,6%

-4,4%

67,2%

0%
38

ICON -

ICX

32,6%

54,3%

17,3%

0%
0%
39

Loopring -

LRC

238,9%

284,6%

189,4%

0%
0%
40

Vitae -

VITAE

456,1%

465,2%

0%
0%
0%
41

Kyber Network -

KNC

47,3%

136,8%

109,2%

0%
0%
42

Lisk -

LSK

1,9%

-0,7%

-25,0%

-3,5%

0%
43

Status -

SNT

101,1%

114,2%

68,5%

0%
0%
44

Nano -

NANO

47,6%

29,4%

0,9%

0%
0%
45

Numeraire -

NMR

93,4%

93,4%

93,4%

0%
0%
46

Bitcoin Gold -

BTG

-3,6%

-15,4%

-34,9%

0%
0%
47

Horizen -

ZEN

102,4%

114,3%

62,0%

0%
0%
48

Quant -

QNT

109,5%

106,7%

0%
0%
0%
49

NEXO -

NEXO

73,4%

118,4%

0%
0%
0%
50

Siacoin -

SC

29,8%

28,3%

-2,7%

37,8%

0%
51

Enjin Coin -

ENJ

7,4%

26,2%

61,6%

0%
0%
52

Verge -

XVG

59,7%

38,8%

3,4%

2.216,7%

0%
53

Aragon -

ANT

136,5%

167,0%

145,1%

0%
0%
54

Bytom -

BTM

-13,3%

-23,1%

-40,1%

-47,7%

0%
55

Decentraland -

MANA

72,7%

86,0%

51,2%

0%
0%
56

MonaCoin -

MONA

-5,9%

12,8%

1,4%

325,6%

0%
57

Bancor Network Token -

BNT

130,1%

125,5%

47,7%

0%
0%
58

Augur -

REP

5,2%

10,3%

-2,3%

3,2%

34,0%

59

Komodo -

KMD

-3,7%

-20,1%

-35,2%

0%
0%
60

MaidSafeCoin -

MAID

58,1%

29,2%

3,3%

-9,3%

0%
61

iExec RLC -

RLC

61,7%

68,8%

70,0%

0%
0%
62

Ardor -

ARDR

33,3%

17,9%

-6,9%

6,2%

0%
63

KuCoin Shares -

KCS

-21,3%

-19,3%

-29,4%

0%
0%
64

Steem -

STEEM

-8,6%

-18,6%

-40,8%

-44,4%

0%
65

Gnosis -

GNO

136,4%

136,5%

89,5%

0%
0%
66

BitShares -

BTS

0,2%

-21,3%

-41,9%

-16,2%

0%
67

Ark -

ARK

59,2%

41,9%

3,0%

0%
0%
68

Syscoin -

SYS

189,1%

188,1%

74,8%

113,6%

0%
69

Electroneum -

ETN

28,8%

19,7%

-12,1%

0%
0%
70

UTRUST -

UTK

21,6%

21,6%

-0,9%

0%
0%
71

Civic -

CVC

180,6%

160,2%

44,7%

0%
0%
72

Zcoin -

XZC

1,2%

-11,3%

-31,7%

-20,5%

0%
73

Storj -

STORJ

98,1%

97,1%

39,9%

0%
0%
74

elf -

ELF

17,8%

3,8%

-25,0%

0%
0%
75

Aeternity -

AE

-8,7%

-34,9%

-53,9%

0%
0%
76

Power Ledger -

POWR

28,6%

30,8%

-6,2%

0%
0%
77

Bytecoin -

BCN

-17,5%

-45,1%

-61,0%

-46,9%

24,0%

78

Reddcoin -

RDD

4,7%

0,1%

-28,2%

276,5%

0%
Durchschnittskosteneffekt
Was wäre die Rendite gewesen, wenn man jeden Tag (oder jede Woche) den gleichen Euro Betrag gekauft hätte seit 2016, 2017, 2018, 2019 or 2020?
Key Takeaways
Dollar Cost Averaging (DCA) is an investment strategy that reduces volatility and risk by regularly buying an asset for the same amount of USD.
If you started buying 10$ worth of Bitcoin a day in 2016, you would have invested ~17.000 $ and the portfolio value would be ~120.000 $: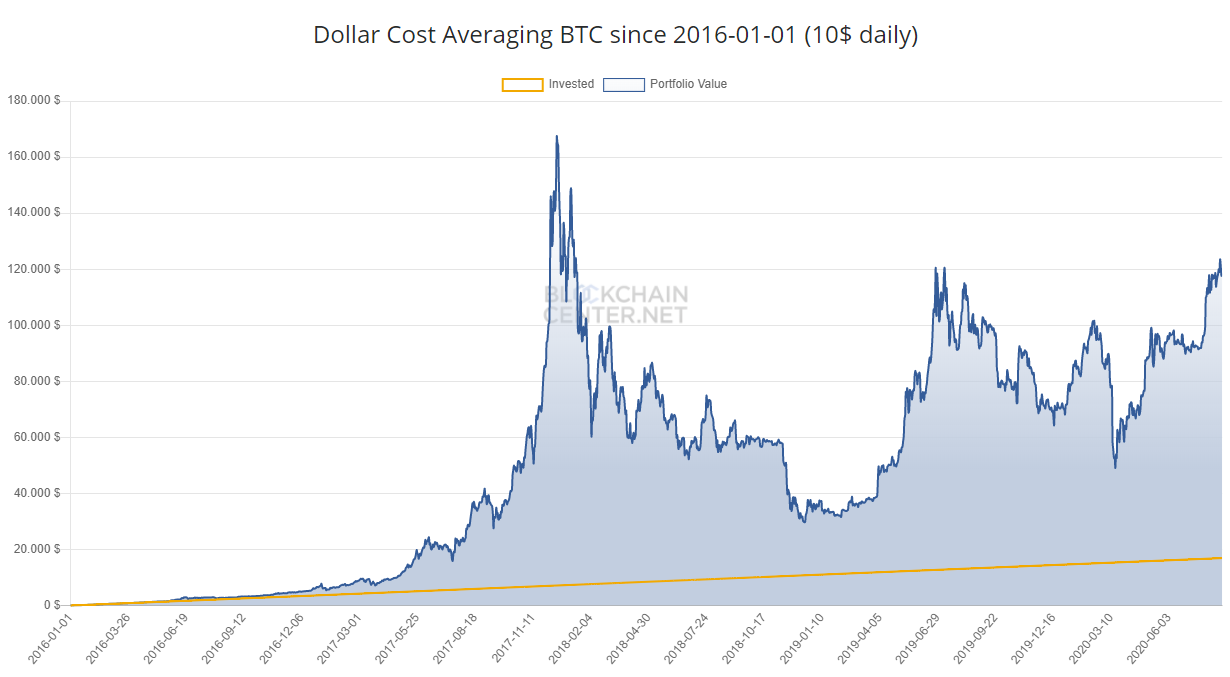 Even if you started with DCA at the beginning of 2018 at the peak of the last bubble, Bitcoin would have made you positive returns by now: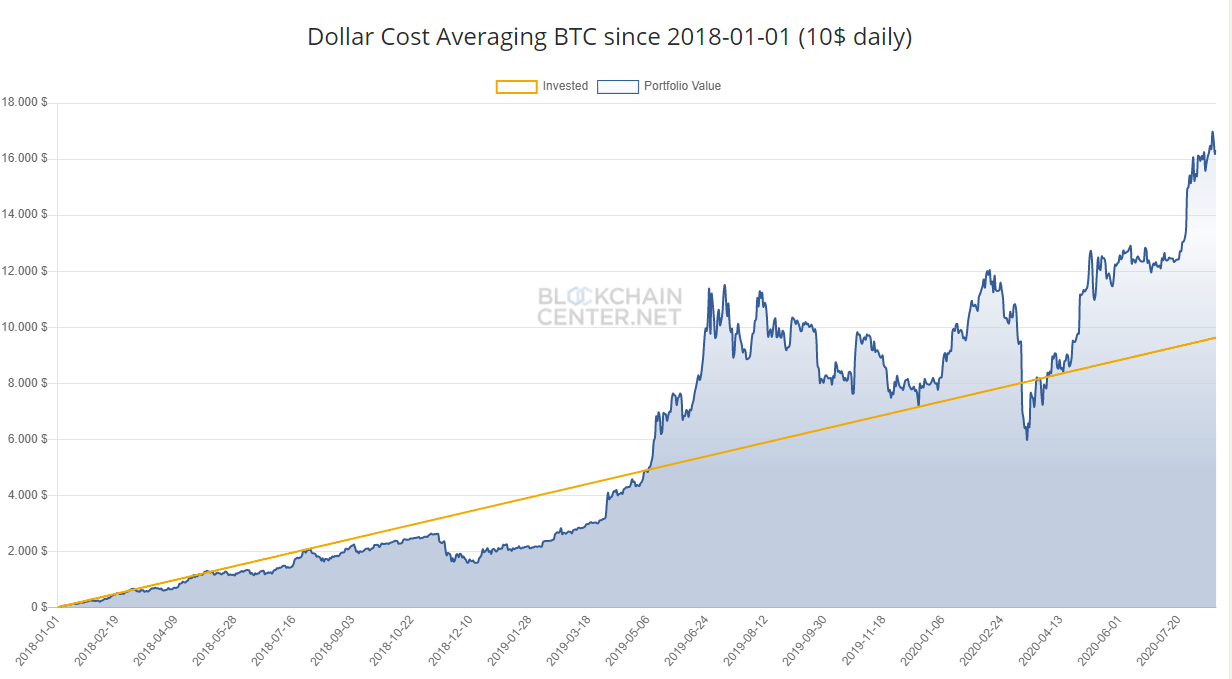 There are some coins that resulted in a significant loss if you started in 2018 or 2019: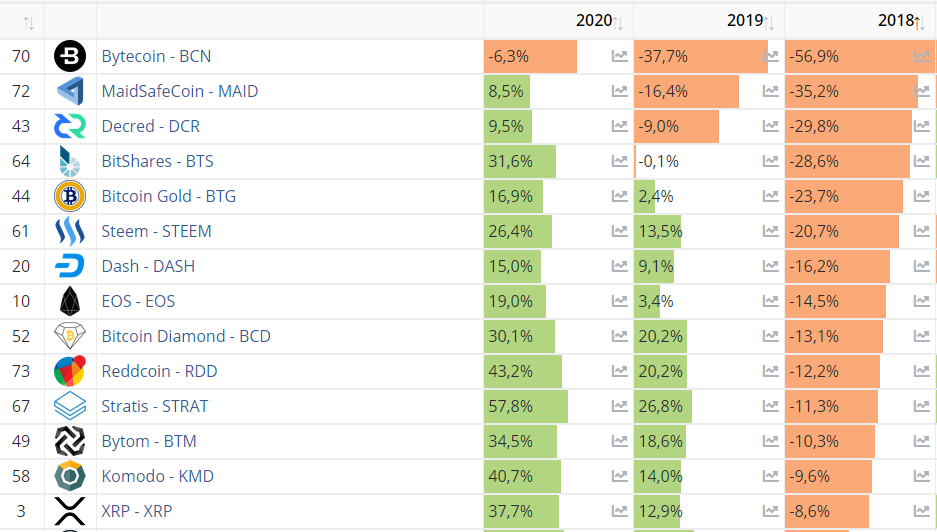 But Bitcoin is by far not the only cryptocurrency where DCA would have yielded positive returns. In fact, most of the top cryptocurrencies that were around in 2016-2018 made even more DCA returns than Bitcoin (notable exception: MaidSafeCoin, MAID):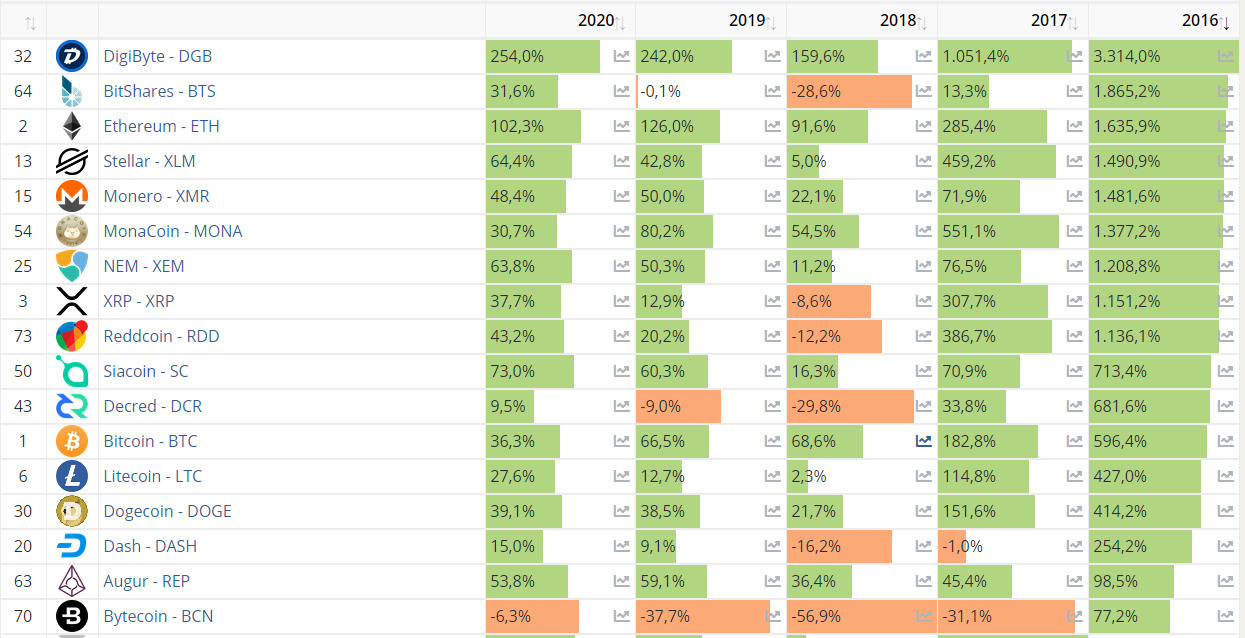 Ethereum yielded higher DCA returns no matter the timeframe:

Conclusion
Dollar Cost Averaging Bitcoin would have been a solid strategy.
Buying in bulk would have either resulted either in loss or vastly greater returns (depending on when you bought).
The data does not show anything special about Bitcoin over a basket of random other Top Cryptocurrencies when it comes to Dollar Cost Averaging.
Disclaimer
We didn't include coins that started in 2020 or 2019 since they don't have enough history.
We removed coins after Rank 50 if they don't have a history going back to 2018
We removed coins after Rank 75 if they don't have a history going back to 2017
The only Top 10 Coins since 2016 that are missing are NXT and Peercoin. Both are basically dead and would have resulted in a total loss.