I buy a new trending coin every day for 100$

Disclaimer: This might be a terrible idea and I do not recommend it. While I expect (hope??) I won't make a big loss with this "strategy", it's probably better for both your nerves and your wallet to just buy Bitcoin or Ether (just in case you are considering to copy trade me). No financial advice!
Current Portfolio Stats
All Trades
2023-07-04 It's over! After 100 days of buying one coin every day for $100, the last coin was PENDLE. Currently down -15% but I feel like everything is possible. No I have to wait 265 more days to start selling all the coins…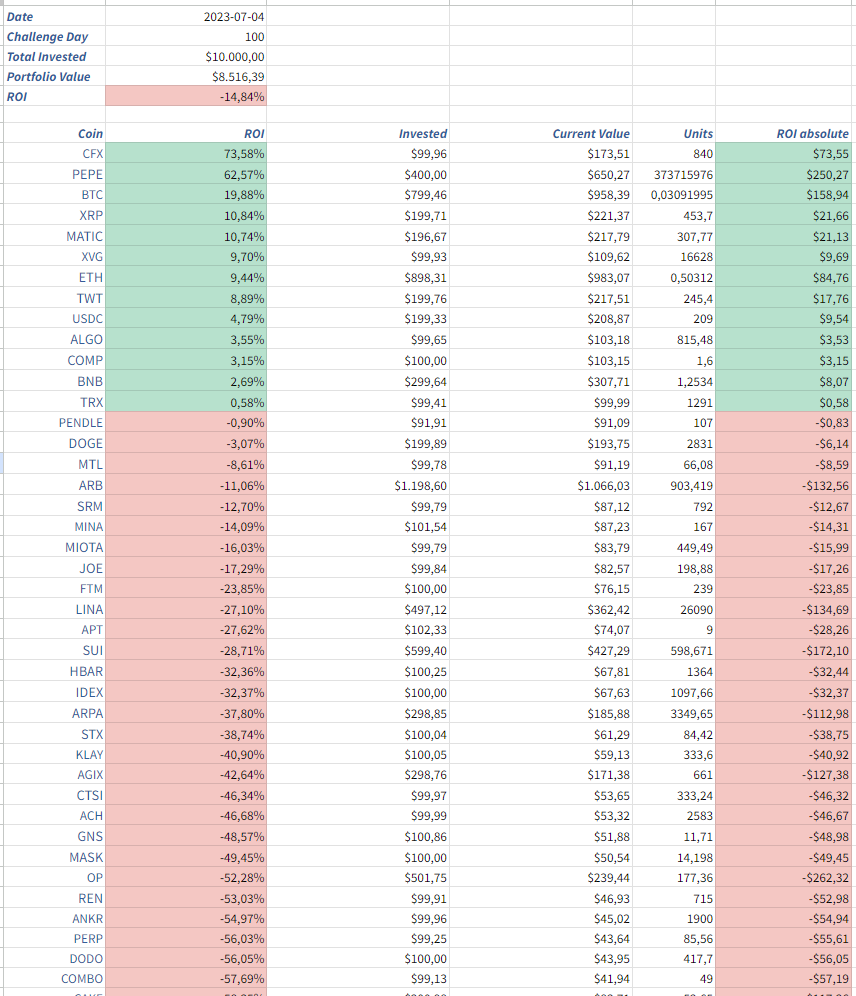 2023-07-03 Old school coin Verge (XVG) ist trending like crazy today. The coin is so old that I forgot what they were trying to do. Something something Supply chain maybe???
2023-07-02 Unfortunately Twitter shut down the API that we use to gauge Twitter interest for a certain coin. So one less metric to determine trending coins…
2023-06-29 Was at Blockchance 23 conference and spoke about my learnings from this experiment. Was a fun presentation.
2023-06-27/28 MATIC was trending two times in a row
2023-06-26 Haven't heard about Serum SRM since forever but today it is trending.
2023-06-25 And another solid trend for today: BTC
2023-06-24 Pleased that ETH is trending today
2023-06-23 MTL
2023-06-22 PEPE. We are so fucking back! PEPE ist saving the day with +100% over the last days. I was sooooo reluctant to buy this crap, but the Trending Coins Tool kept saying I should really buy PEPE… Portfolio only down 12% right now…
2023-06-21 PEPE
2023-06-19 PEPE
2023-06-17 SUI
2023-06-16 Even though it was trending multiple times before, I did not buy PEPE. First because it was not on Binance, then because the Hype was obviously over. It is now 80% from All Time High….and still trending sometimes.
2023-06-14 / 15 TrustWallet is exactly that. A wallet. Don't know why it has a token or it's trending but here we go.
2023-06-13 – Somehow ETH is trending according to the metrics with no apparent reason. Happily buying
2023-06-12 BNB
2023-06-11 BNB
2023-06-10 DOGE
2023-06-09 SUI
2023-06-08 It looks bad….really really bad. I started this challenge right into a Bitcoin Season. The portfolio is down 25%. I need an altcoin season to not make a fool out me for doing this challenge…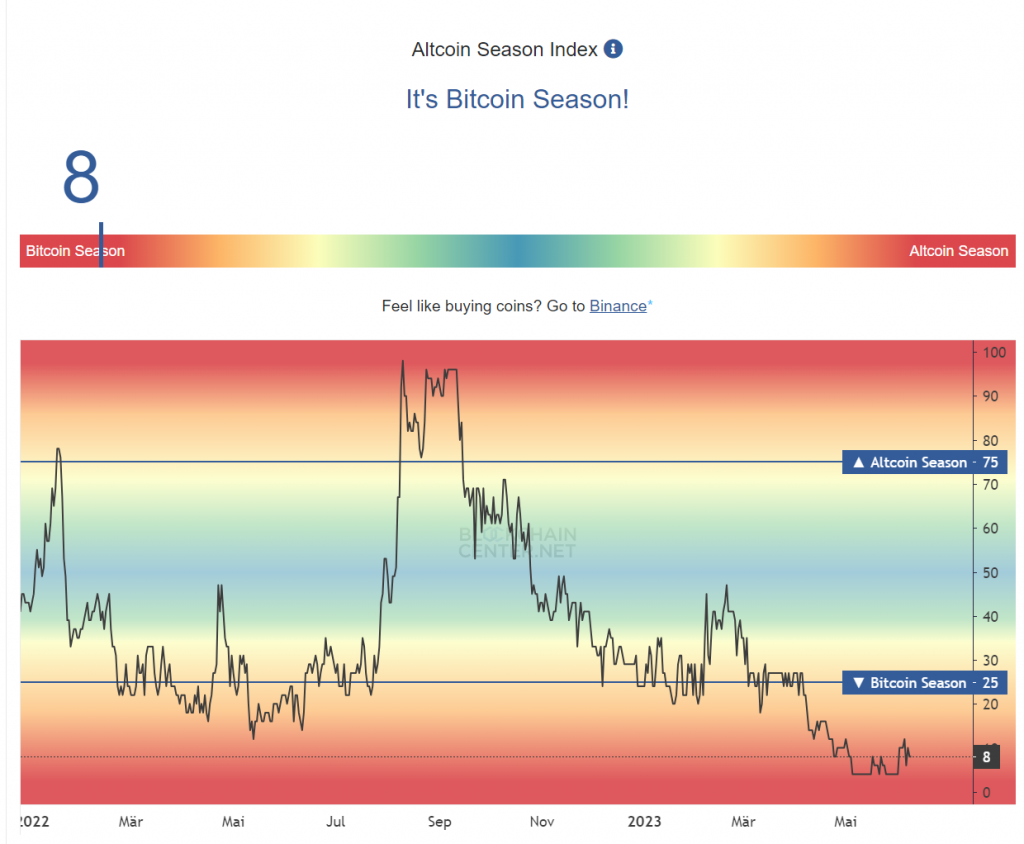 2023-06-07 ALGO
2023-06-06 Today Binance got sued by the SEC, so naturally BNB was trending….down
2023-05-30–2023-06-03 An new coin called LINA (Linear) has entered the Trending Coin list
2023-05-29 ARPA
2023-05-28 ARB
2023-05-25 more ARPA
2023-05-24 Finally something new is trending. It's ARPA, a 'Secure Computation Network for Blockchain-adapted Cryptography'
2023-05-21 SUI
2023-05-20 Tron TRX
2023-05-19 Bought XRP
2023-05-17 It's crazy but the only things trending in the last couple of days were Milady Meme Coin LADYS. They are not on Binance. It is extremly quiet
2023-05-10 Again SUI
2023-05-08 Arbitrum
2023-05-05 More SUI
2023-05-04 SUI is a new Layer 1 Chain that started trading today. It's trending of course. I hope my 100$ for today does not contribute to exit liquidity of the VC Investors in SUI
2023-05-02 My Bitcoin and Ethereum Bags (The coins that I buy if nothing is trending) are getting kind of big and threatening to skew the results of the challenge. From now on I decided to not buy anything if nothing is trending substantially. No coins bought today
2023-05-01 ETH was actually trending
2023-04-30 Bitcoin is trending! That's a first! Apparently we have ecceptional trading volume today (on top of other metrics trending. Happily bought BTC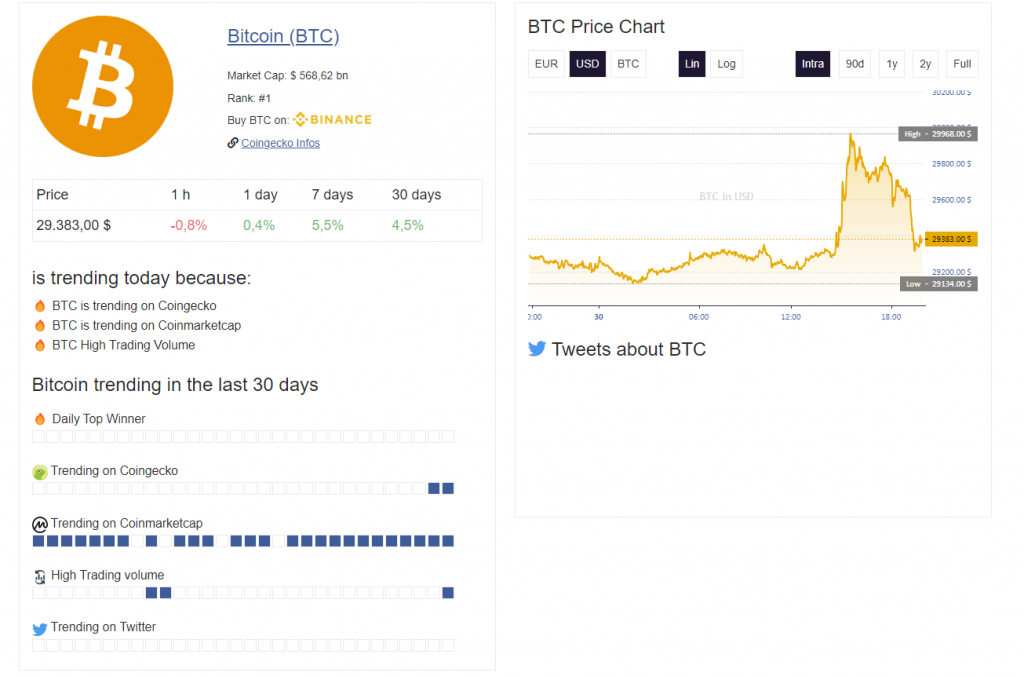 2023-04-29 Arbitrum again
2023-04-28 – Nothing was trending (besides PEPE which is still not on Binance), bought BTC
2023-04-27 – Arbitrum
2023-04-26 – Arbitrum
2023-04-25 – Finally a new coin trending! IDEX, a "Layer 3 Derivatives Exchange.
2023-04-24 – Nothing Trending (besudes PEPE), bought BTC
2023-04-22 / 2023-04-23 – Besides PEPE, another weekend where nothing was really trending. Bought BTC & ETH
2023-04-20 / 2023-04-21 – Moar Arbitrum. Also trending is of course the new Meme Coin Pepe but since I can't buy it on Binance I am happy to pass on that one….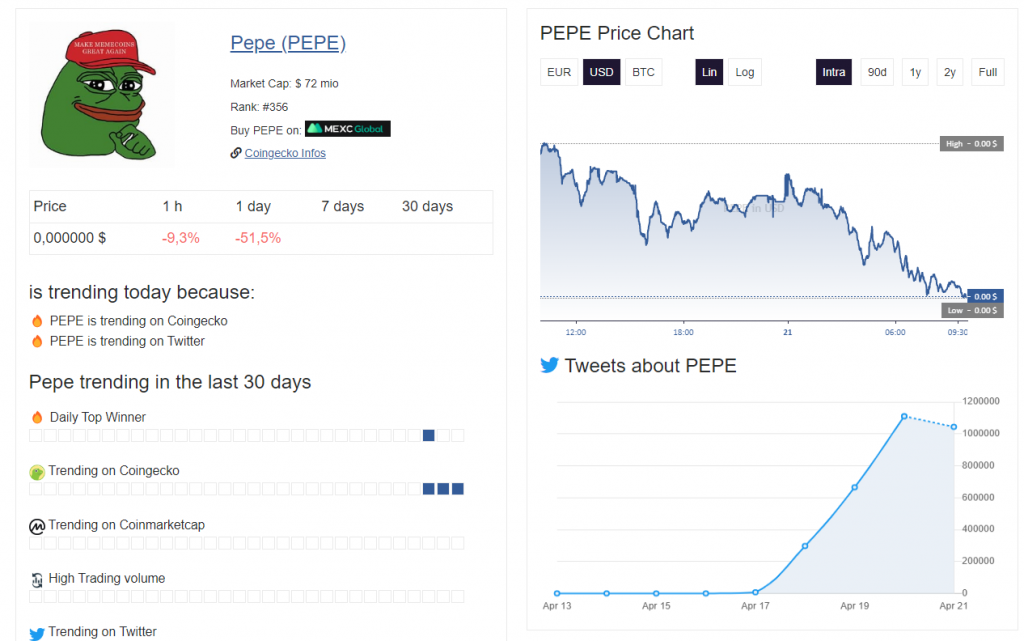 2023-04-19 – Today I bought Cartesi (CTSI). Luckily after the huge flash dump.
2023-04-18: I am back! The Coinchallenge continues today with Space (ID). It seem to be some sort of Web3 naming Service for .eth, .bnb & co Adresses. No idea what the token does…
2023-04-03: I have problem…I am currently on vacation in the US and Binance will not let me enter my Binance account (only Binance.us) So I have to postpone the challenge until I am back. The DOGE buy yesterday was before the Twitter pump, yay!.
2023-04-02 – DOGE! i can't believe I don't already have it in my bouqet of coins but today it is trending.
2023-04-01 – Today is Aprils Fool. I faked a screenshot of ChatGPT and tweeted that I will start taking suggestions from ChatGPT for the challenge. Made it look like it wants me to buy IOTA. It was a decent joke, nothing was trending anyway so I went ahead and bought it (even though it was technically not trending).
2023-03-31 – Today I added a new one to my collection. Hedera (HBAR) was briefly trending. Meanwhile it looks like I can no longer take Twitter trends into account since Twitter has restricted the free API usage…Too bad…
2023-03-30 – After one more day of buying Arbitrum, ARB is now my biggest position in the portfolio.
2023-03-29 – Again, not a good feeling with this one: Trending is the Mask Network (MASK), apparently it's a way to add privacy to Social Media platforms through encryption. Also is already doubled in the last two weeks. Let's see.
2023-03-28 – Trader Joe (JOE) is basically Uniswap on Avalanche. I have no idea why it's trending, maybe because it's also available on Arbitrum.
2023-03-27 – Nothing was trending, not even Arbitrum. Bought ETH. Portfolio currently down 7%.
2023-03-26 – Yep, Arbitrum
2023-03-25 – Yep, Arbitrum
2023-03-24 – I fully expect to buy more Arbitrum ARB over the next days as it is of course trending again today on almost all metrics: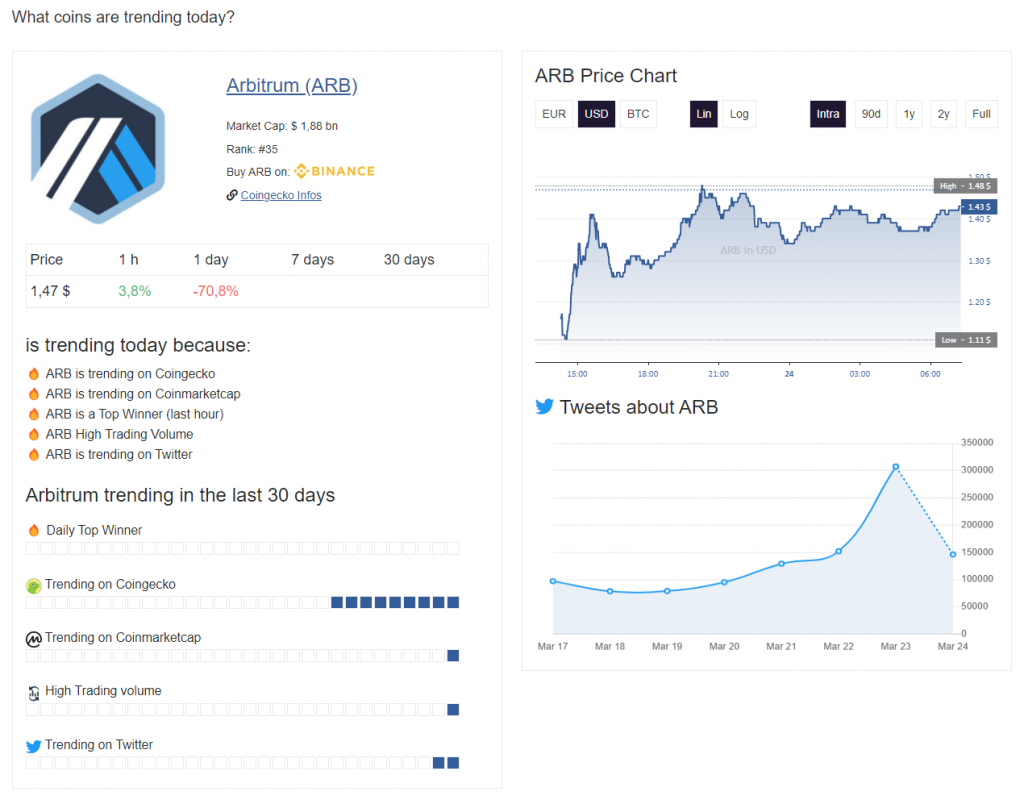 2023-03-23 – Today is Arbitrum (ARB) Airdrop day. Of course it is trending. Due to the volatilty it is very unlikely that I got a good deal for my 100$ but we will see. I am now officially Exit Liquidity for the the Airdrop Dumper…
2023-03-22 – Nothing was trending, bought ETH
2023-03-21 – Fuck. Fuck. Fuuuuuuck. Then only coin trending today is @#!#*ing XRP. Rules are rules so I bought it, but I am seriously contemplating my life choices now…never been a XRP bagholder…
2023-03-20 – Not sure why but REN is trending today. Bought it after it's already up 50% for the day…
2023-03-18 / 2023-03-19 – It seems on weekend there is not much action… No trending coins. Bought BTC and ETH
2023-03-17 – Bought Stax
2023-03-16 – The Gains Network (GNS) ist a DeFi protocol with decent user growth. After the price already tripled in January it was trending again today.
2023-03-15 – The AI language model GPT-4 was released. Even though Singularity.net (AGIX) has nothing to do with OpenAI, the crypto market thought it makes sense to pump AI coin AGIX…Never change crypto…never change…
2023-03-14 – Today I bought Liquity (LQTY). The stable coin protocol (LUSD) is up 30% after the USDC turmoil yesterday. Let's hope there is more competition amongst stable coins.
2023-03-13 – Nothing was trending except USDC (which has regained its peg so I am not buying it). If nothing is trending I buy Bitcoin or Ether, so today I opted for Ether (ETH)
2023-03-12 – Another Cheat Day! Today USDC is trending again. Still below its peg, bought another 100$ worth of "stablecoin". I am very confident, that USDC will not go down. Looks like the market thinks the probability of not getting Dollar for USDC is 5%, because 5% is still the discount.
2023-03-11 – Today USDC depegged due to the Silvergate Bank liquidation. Circle was holding a part of their USDC backing at the bank. So people got scared and sold their USDC resulting in a price of < 0,90 Cent. Of course USDC was also trending so I actually bought it today lol… Got 105 USDC for my $100. If it repegs again, I will always have one coin with a +ROI in my portfolio, yay!
2023-03-10: Today it was Mina Protocoll (MINA). Don't know much about the project other than that some people think it's cool Zero Knowledge tech..
2023-03-09: Don't know why, but I observed that Pancakeswap CAKE is almost always trending on Coinmarketcap. Today it was also trending on Twitter. Enough that the tool thought Pancakeswap is trending.
2023-03-08: Today I bought Voyager (VGX) because it was trending. After two minutes of "research" it looks like they are a crypto.com competitor. No idea how succesful.
2023-03-07: I remember Aptos (APT) trending a lot in January. Since then it is down almost 40%. Today it was trending again. Bought a $100 bag.
Meanwhile, the guys at CryptoDCA made a Chart where they compare the portfolio of this challenge against a simple Bitcoin only DCA strategy.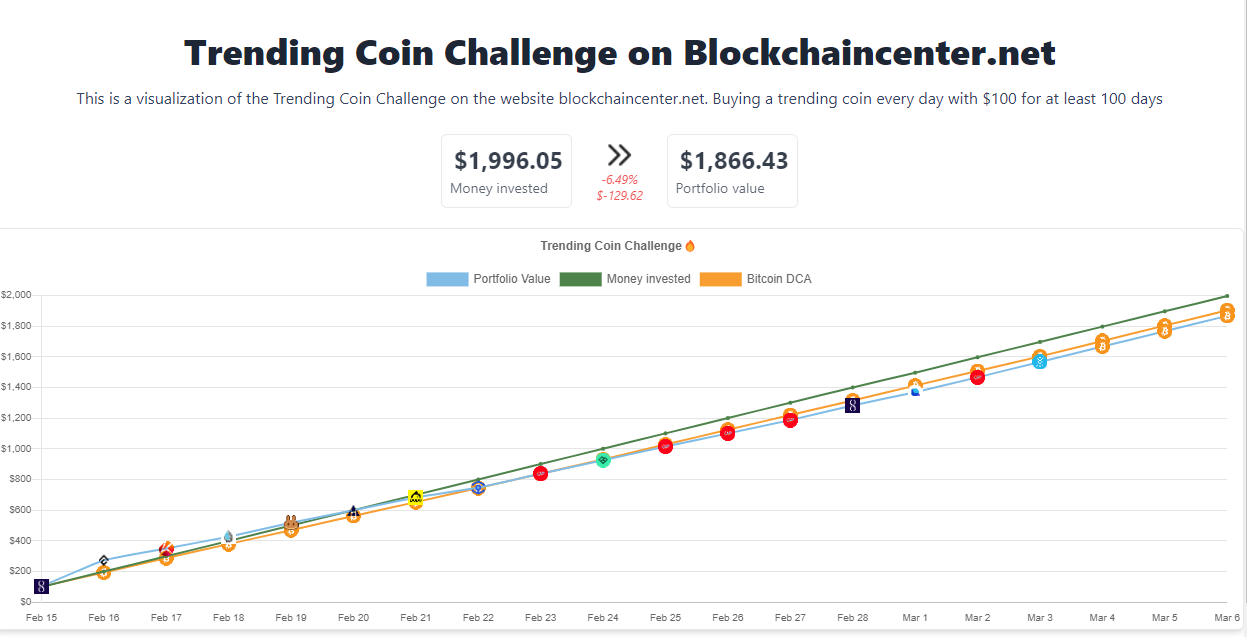 2023-03-06 – OK this experiment is in severe danger… for the third day in a row, NO coins are trending. That is why I decided to add a new rule: If nothing is trending, I am going to buy BTC or ETH. For today I bought $300 worth of Bitcoin (BTC) to make up for the last two days.
2023-03-04 & 2023-03-05. This was the sentiment over the weekend. No substantial moves and no trending coins. No what? Hopefully the market wakes up again than I will probably buy for $200 or $300 tomorrow.

2023-03-03: Today I bought Fantom (FTM). FTM is trending on Twitter and based on trading volume (haven't figured out yet why) but still down almost 90% from All Time High. Does that mean it can only go down a maximum of 10%? 😉
2023-03-02: You won't believe it but I had to buy Optimism (OP) again. It was either that or Pancakeswap. I waited if something else is trending today but no luck. I was more of an Arbitrum guy before but it looks like I am now a HUGE Optimism Fan 😉
2023-03-01: I am very conflicted about today. One the one hand trending was a promising new project Liquity (LQTY) that aims to establish a new "unstoppable" (their words) Stablecoin called LUSD. On the other hand it was trending because of the Binance Listing that usually comes with a big pump followed by a sell off. So it could very well be that I bought the top…
2023-02-28: Singularity.net (AGIX) is trending again. And again I'm not convinced that this is 100$ well spent (don't think the AI Hype will last) but rules are rules…
2023-02-27: Bought Optimism (OP) for the third day in a row…
2023-02-26: Trending today was, again, Optimism (OP). Happily accumulated. At least I know that Optimism is not a scam but inportant Ethereum infrastructure.
2023-02-25: Forgot to check the trending coins for today (Hey it's the weekend). At about midnight Optimism OP was trending so the it's the first coin I bought twice. Currenty the market is in a downturn, so I am happy that my portfolio is still a little bit up from my starting 10K. But basically one coin makes the difference (CFX)
2023-02-24: Currently nothing is trending 😱 I hope that changes in the next hours, otherwise I don't what to buy today…At least OP is up. It turned out the Coinbase Annoucement was about their own Layer 2 Solution for Ethereum based on Optimism

Late night update: I bought Perpetual Protocoll (PERP).
2023-02-23: Trending throughout the day was only VELO, but since that coin is not on Binance (only OKX) I need a new coin! I noticed that Optimism (OP) was trending on Coingecko and Coinmarketcap. Did some digging and it might have something today with the Coinbase Annoucement later today. Some people are speculating that Coinbase is launching a Layer 2 with Optimism tech. Enough reason for me to buy it today!
2023-02-22: Today I bought Ankr Network (ANKR). It was trending because Asian Giant Tencent announced a partnership with Ankr, somethingsomething Web3. DODO from yesterday is down bad. I knew it!
2023-02-21: I haven't found a reason yet why, but Dododex (DODO) is currently the only coin trending. Bought it even though it's already up 60% just today. Don't have the best feeling about that coin…
1 Week Update: So far so good. After seven days ALL(!) of my trades are +ROI, CFX even did almost a 3x in that timeframe. I don't expect this crazy performance to last, but it gives me hope that this challenge will be a success.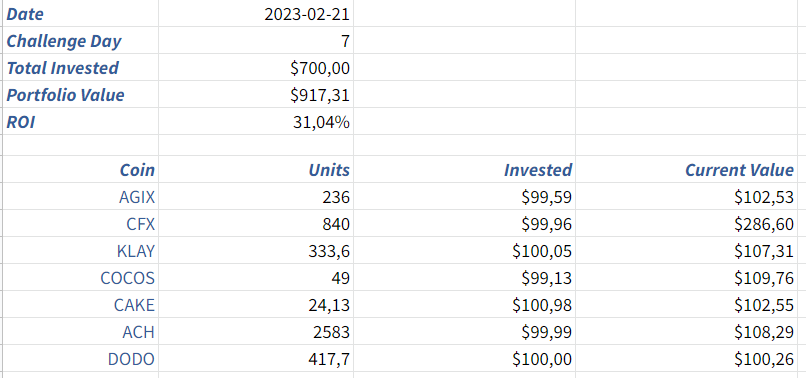 2023-02-20: Today I bought Alchemy Pay (ACH). They are a Fiat onramp solution for Crypto & Web3 and apperently they added Google Pay so that's why they are trending.
2023-02-19: Slow day today nothing crazy was trending. Only Pancakeswap (CAKE) and Polygon (MATIC). I decided to buy CAKE without a real reason.
2023-02-18: I am pretty sure today was a bad trade.. I had to buy COCOS (BXS) after it doubled already (+100%) throughout the day. Apprently it's some sort of GameFi Infrastrukture Token from…China. Their website is not stingy with buzzwords ("DAO for Metaverse. MetaFi, NFT, GameFi, IGO & More").
2023-02-17: OK, I am honest: Trending today is FLOKI but I really really don't want to buy a pumping meme coin. It's not on Binance but I could buy it on Uniswap (according ot my rules). But my hope is, that another coin is trending in a couple of hours so I'm waiting…
Update: 19:00 YES, currently trending is Klaytn (KLAY). Not sure if that's better than FLOKI but I'll take it. Apparently there is a "chinese coins" narrative starting to form. Klaytn is from South Korea but close enough I guess..
2023-02-16: Today I bought Conflux Network CFX. Also trending was FLOKI and BLUR but since they are not on Binance I had to settle for Conflux. I have no idea what they are doing… AGIX from yesterday is already up 10%. I'm a genius. Let's goooooooo
2023-02-15: Let's start! I loaded up my Binance Account with 10000 USD, enough for the first 100 days of this challenge. Trending on the first day was Singularity.net AGIX. Kind of unfortunate that I have to buy them now. They were trending troughout the last month. If I had started this challenge earlier it would have been cheaper. Oh well…
What is this and why am I doing it?
Backstory: In early 2023 I built our "Trending Coins" Tool which shows Cryptocurrencies that are currently trending based on a couple of different metrics.
Naturally the first question that pops into any degenerate gamblers mind is: Does this tool actually work as a trading tool? Is it possible to make a profit just by buying coins that this tool is "recommending"? After all the crypto market is highly hype driven.
There is only one way to find out. I need to try it! (Aaaahctually there is more than one way…I could just backtest this strategy with historical data, but where is the fun in that???)
So the plan is:
Buy one of the coin that are trending every day for 100$, track the results and see what happens.
To be honest I am on the fence between: "That is a stupid, stupid idea!" and "This might actually work" but no matter what happens, I think it is a fun experiment. So I'm doing it. For science!!!
But before I start, there are a couple of logistical questions that I have to answer first:
Great, I know what coins to buy, but when do I sell them to lock in the mad gainz???
Where do I buy these coins? Sometimes they are very new/obscure, not on many exchanges
What about the tax implications?
What should I benchmark this strategy against? Just holding dollar? Buying Bitcoin? Ether?
I came up with the following ruleset that will help me mostly automate my decisions
Everyday (if possible) I will buy one of the coins from this tool
After 100 days I will decide if stop the experiment or do it for a full year.
I will hold every coin for one year and then sell it. Reason is, that if I make a profit (come on!!!) it will be tax free after one year according to german tax law.
If there is more than one coin trending on any given day (happens regularly) I am allowed to research these coins and pick one based on personal liking.
I will only buy coins that are availabe on either Binance or Uniswap
If the same coin is trending on multiple days, I will just accumulate more.
I will track every trade and the daily portfolio value in a public Google Sheet document
It wouldn't be a SCIENCE experiment if there's is no control group. So, I'll also document how my portfolio would perform if I just went for Ether or Bitcoin instead. My gut feeling tells me the experiment is not worth the hustle, but again, I think it's fun! Maybe I learn something and maybe the real profit is the friends I make along the way 🙂
If you want to have live updates the moment I buy, consider following me on Twitter!